'I am quite happy with my scout job. To tell the truth I almost feel safer in front of than directly behind the trenches. I maintain that if a man gets hit its either his own fault or destiny'.
Rifleman Barnet (Barney) Griew, May 1916
Changing the Landscape, an ambitious visual arts project from British painter Sarah Kogan, is a profoundly personal and deeply poignant exploration of the cataclysmic destruction - physical, emotional and psychological, wrought by the First World War. Supported using public funds by the National Lottery through Arts Council England, Kogan has undertaken a journey to France to trace the footsteps of her great uncle Barney Griew, a map maker and scout, who died in the Battle of the Somme and whose extraordinary archive of letters, drawings, and photographic postcards are the inspiration behind the project. 
Changing the Landscape was the first contemporary art project to exhibit at The National Archives UK in London from April to September 2016, as part of the centenary commemoration of the Battle of the Somme, before touring to the London School of Economics and the iconic Wolfson Reading Room at Manchester Central Library in 2016/17. The installation has enjoyed a public reach, online and live, of approximately five million (stats. supplied by The National Archives UK and Manchester Central Library) and has attracted nationwide broadcast publicity. It encompasses a large installation of artworks produced by Kogan following her journeys to France and includes a specially commissioned multi-screen video installation by independent film-maker Jeremy Bubb, as well as an extensive talks and education programme. Other collaborative outcomes have included that generated by Historypin, an online user-generated archive of historical photographic materials and audio-visual recordings.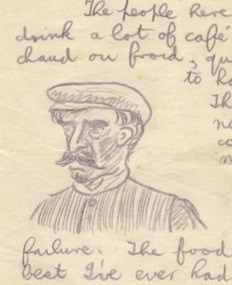 Kogan recalls being shown her great uncle's illustrated letters during childhood by her grandmother, one of the main recipients of Barney's prolific writing. On rediscovering the letters – written during the five month period before his death, and described by William Spencer, First World War principal specialist at The National Archives as "unique" - Kogan was struck by their extraordinary details, stories and sketches, as well as by the multiplicity of viewpoints expressed by Barney as he wrote several times a day to different family members. It is these multiple viewpoints that make these letters and drawings of such exceptional historical value. Alongside these parallel accounts of his trench life Kogan has researched those written in official documentation by the military commanders under whose supervision Barney's unit worked. These multiple "sight-lines" – almost as though caught in the cross-hairs of a rifle – form the foundation of Kogan's artistic response, which explored how the landscape – the physical landscape of France, the psychic landscape of Barney, his loved-ones, the country and of Kogan herself  - has been indelibly altered by the Great War.
Changing the Landscape represents a continuation of Kogan's work as an artist, exploring as it does themes of personal narratives and uncertain journeys, the Romantic visualisation of exterior landscapes as a reflection of interior domains, as well as its focus on First World War battlegrounds. It shares preoccupations explored in her earlier series of paintings of the obliteration of Passchendaele, in which Kogan was inspired by aerial photographs of the area before and after its destruction. As with that series, Changing the Landscape is preoccupied with cartography in all its contemporary connotations: mapping terrains both physical and psychological.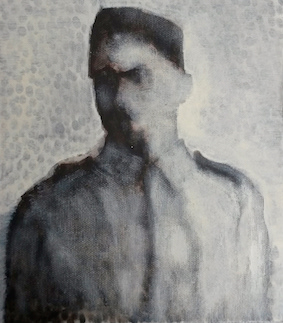 curator

/
 producer  
Sarah Kogan 
digital video production                     Jeremy Bubb
education programme                       Nathalie Ginvert
catalogue design                               Laurent Benner
graphic design                                   Lisa David

with heartfelt thanks to:
Arts Council of England, The National Archives UK, Tate, Dept. of MCL University of Roehampton, Rebekkah Abraham, Ricky Bowtell, Tony Ageh, Paul Bonaventura, Pete Boswell, Jake Bubb, Jeremy Bubb, Emma Cahusac, Joe Clarke, Dan Crompton, Ceryl Evans, Stuart Franklin,Ruth Garde, Adam Gildersleeve, Matthew Gunton, Rosa Hodgkin, Victoria Iglikowski, Ela Kaczmarska, David Kogan, Gillian Kogan, Diggs Lecomber, Sarah Leggett, Kate Lennard, Bradley Levers, Dr Tim McInerny, Naomi Rees, Julia d'Rozario, Leah Schmidt, Andrew Schuman, Jeremy Schuman, IanShand, Fleur Soper, William Spencer, Nick Stanhope, Hafiz Sule, Kate Wheeler.
Sarah Kogan is a British artist and curator represented by Tom Rowland, Director of Karsten Schubert. 2019 exhibitions include Miniscule Venice, curated by Vanya Balogh, 58th Venice Biennale 2019; Tom Rowland presents Sarah Kogan at St Pancras Way and Miniscule Part 2, curated by Vanya Balogh, Cross Lane Projects, Kendal UK. Exhibitions planned for 2010 inlcude New Doggerland, curated by artist Jane Millar, Thames-Side Studios Gallery, London and Transcend, Blyth Gallery, Imperial College London curated by Sarah Kogan. From 2016-18 Kogan's multimedia First World War visual arts installation, Changing the Landscape, was supported by public funding from The National Lottery through Arts Council of England and exhibited in four international and national venues including Museo d'Arte Contemporanea di Cogliandrino (MACC) Italy, curated by artist Stephen Nelson; The National Archives UK; Atrium Gallery, LSE and Manchester Central Library, with a public engagement of over five million online and live visitors. In addition, in 2018 Kogan curated the multimedia exhibition, Space Shift for APT Gallery, London supported by art critic Richard Dyer. In 2017 she was selected by Alison Wilding for Creekside Open at APT Gallery, London. Kogan has been a guest lecturer at Chelsea College of Arts, UAL, The Estorick Collection and on the groundbreaking Art of Psychiatry module, Bethlem Royal Hospital. Contributions to presentations and academic conferences include The Photographers' Gallery, British Library, The National Archives UK and Roehampton University.
Filmmaker, Producer and Senior Lecturer in Digital Film Production. 
Jeremy has been an independent filmmaker and producer fo

r almost twenty years. His current research explores a film language for new media films, devising strategies for multi-image screen stories. His work is published and presented internationally. Films include 'Space Dance', which was shortlisted for a BAFTA, 'Writ in Water', a three-screen film drama funded The University of Surrey;  the award winning 'The Sea' and 'Number Nine Rush' comissioned by Southern Arts and Meridian Television.  He worked on 'The Case for Coal',  a C4 documentary about the struggle of striking coal miners in 1980s, which received a prestigious Grierson Award.  Jeremy studied at the  National Film School of Poland and Northern School of Film and Television and currently teaches at Roehampton University London.