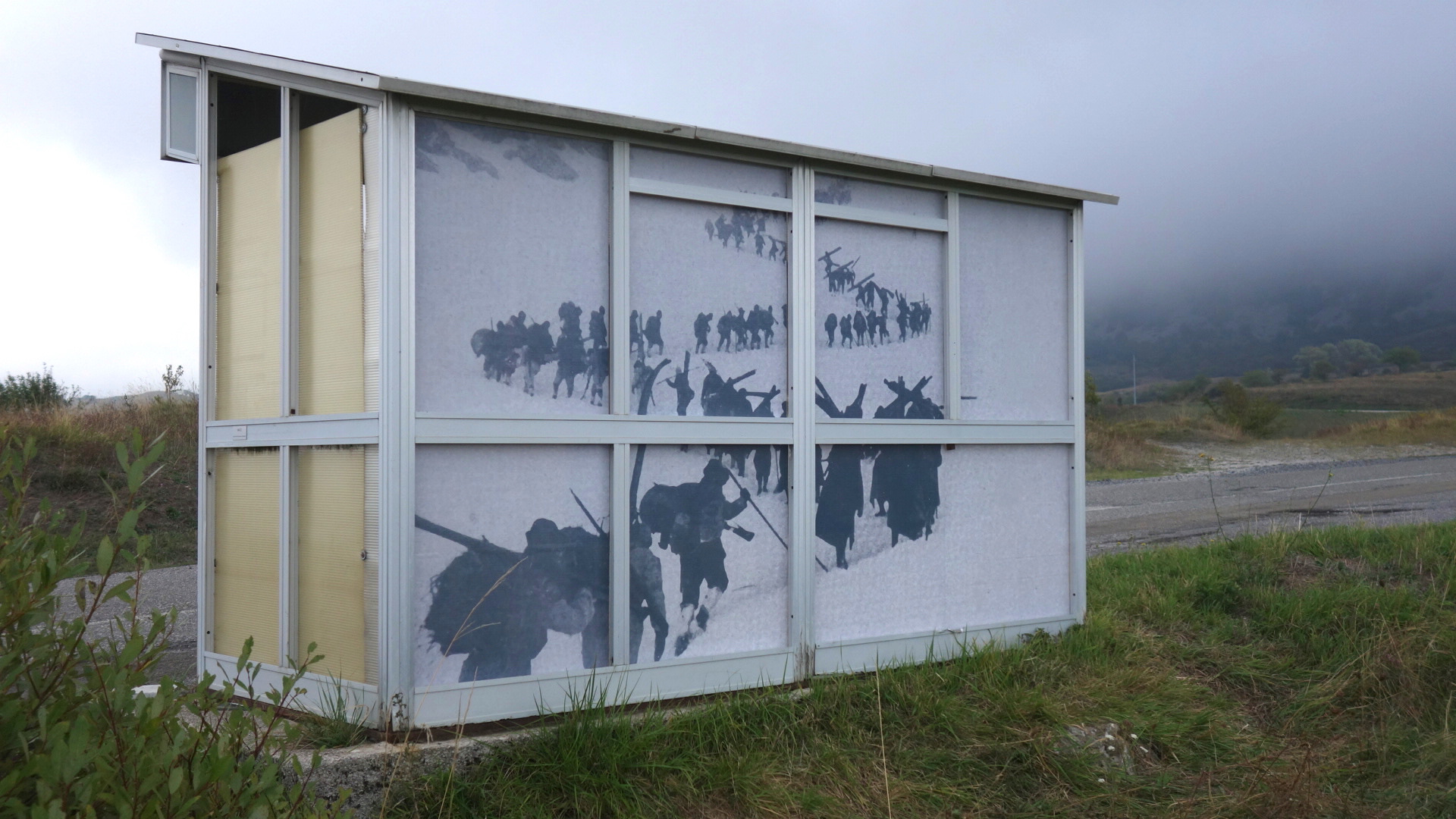 The White War / La Guerra Bianca
Sarah Kogan
Curated by Stephen Nelson
The white war is a site-specific art installation by British artist Sarah Kogan, for the conclusion of the First World War centenary; it forms part of her four-year project Changing the Landscape. The installation is curated by Stephen Nelson for Museo d'Arte Contemporanea di Cogliandrino(MACC), a non-profit artist-run space in Basilicata, southern Italy that aims to enable international artists to explore and develop new ideas in their practice, in a stimulating and diverse setting.
Kogan's installation consists of a large-format First World War photograph (1916) of the Italian Alpinitroops, who were conscripted from Basilicata between 1915 and 1918. The image will be installed within an isolated bus stop on the edge of the mountainous Pollino National Park, Basilicata. The Alpini fought the Central Powers, primarily the Austrian army, from trenches imbedded in the snow of the mountain border, leading to catastrophic loss of life and the title of the Italian campaign: the white war.
Whilst paying homage to the losses suffered by the Basilicata Regiment, the piece references religious iconographic images of martydom, with the Alpini and their weapons reminiscent of frescos and paintings of Christ carrying the cross on Golgotha; in addition to the work of Pier Paolo Pasolini, who filmed TheGospel According to St. Matthewin Basilicata.  
The image chosen by Kogan was used by the Austrian troops on a postcard in 1916, emphasising the use of photography during the First World War as a propaganda tool. This reference is continued through the use of a bus shelter to display the work, since such structures are often used to display posters and announcements. The fabric of the bus shelter is integral to how we view the image, which is broken up into panels, dissected by metal crosses and struts; mirroring other works made in Kogan's Changing the Landscapeseries, which was displayed across a sequence of museum display boxes. 
Sarah Kogan is a British artist and curator who works in the East End of London. Her 2016/17 multimedia Battle of the Somme visual arts project, Changing the Landscape,was supported by public funding from The National Lottery through Arts Council of England and exhibited as the first contemporary art exhibition at The National Archives UK, touring to Atrium Gallery, LSE and Manchester Central Library, with a public engagement of over five million online and live visitors. She is currently curating the multimedia exhibition Space Shiftfor APT Gallery, London. She has exhibited extensively in solo and group shows with recent work selected by Alison Wilding for Creekside Open 2017at the APT Gallery, London and for Summer Salon 2017at Luborimov/Angus Hughes Gallery, London.  In addition, Sarah is a visiting lecturer at Chelsea College of Arts, UAL, the Estorick Collection, and on the groundbreaking Art of Psychiatry module at Bethlem Royal Hospital. Contributions to academic conferences include the British Library, The National Archives UK and Roehampton University. 
Archive photo: courtesy of the Biblioteca Nazionale Centrale di Firenze